Steve Glover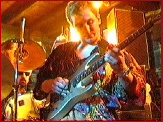 Steve replaced Khal on bass guitar in 1994. Although Steve is a highly accomplished bassist, outside of MDHNN he is primarily a lead guitarist, and one of the highlights of any MDHNN show would be Steve's phenomenal guitar soloing during The Grim Reaper.

Steve has done a variety of session work over the years, and has also recorded an intrumental solo album called Tribe Voyager, on which he plays all of the instruments. He has given a number of live performances as a solo artist.

Steve has a degree in Music from Cambridge, and he has written and scored a number of his own classical music compositions.







Back to Band