Gurmej Virk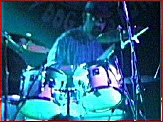 Gurm is another of the founder members of MDHNN, having been a driving force in the creation of the band. Gurm is the drummer and also plays the bhangra on stage, as well as the tablas on record. He also plays the piano. Gurm writes many of the lyrics for MDHNN songs. He also does most of the graphics and design work for band posters, album covers, advertising and merchandise.

Gurm and Rik are the only two band members to have been with the band since the band was formed.

An interesting piece of trivia about Gurm is that the drumkit he originally used in MDHNN used to belong to the drummer from the indie band Gang Of Four.

Gurm is now a qualified homeopathist.







Back to Band