Omelan Demianczuk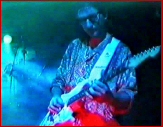 Dem is the lead guitarist of MDHNN. He also plays mandolin and accordion on stage, as well as keyboards and bass guitar. He also runs and maintains the website.

Dem first played with MDHNN in early 1992 when he filled in on both lead guitar and bass guitar whenever Grant or Khal were unavailable. When guitarist Grant eventually left MDHNN in autumn 1992 Dem was the obvious choice to replace him. Dem's friendship with the members of MDHNN actually goes back to 1986, at Loughborough University.

Throughout the 80's Dem played with Purple Haze, and then Panama, and he also played with The Omelan Demianczuk Quintet at Loughborough University. (See www.omelan.me.uk for live photos of these bands).

He has recently been playing bass guitar for The Ukes, having played with them in Canada, France and the UK (see www.theukes.com for more information).

At the moment he is working on enhancing, remixing and remastering the last two official My Dog Has No Nose CD releases. He also writes music for TV documentaries and commercials.







Back to Band