Grant MacNaughton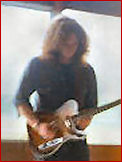 Grant played lead guitar with MDHNN for 3 years between 1989 and 1992. Like many band members, Grant originally had an association with MDHNN via the Loughborough music scene of the late 80's.

Prior to joining MDHNN Grant was in the band Grant Foster And The Shades.

After leaving MDHNN Grant played with the bands Heliotrope and Dr. Brown.







Back to Band