Djamal Touati-Ahmed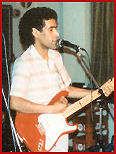 Djamal is another of the founder members of MDHNN, and he plays electric and flamenco guitar. At his last ever gig with MDHNN he set his guitar on fire before smashing it to pieces.

Djamal is Algerian, and before moving to England he won a national music talent competition in his native Algeria.

He is currently living in Italy, and is no longer involved in the music scene.







Back to Band