My very good friend Dem passed to me his vintage VOX AC30.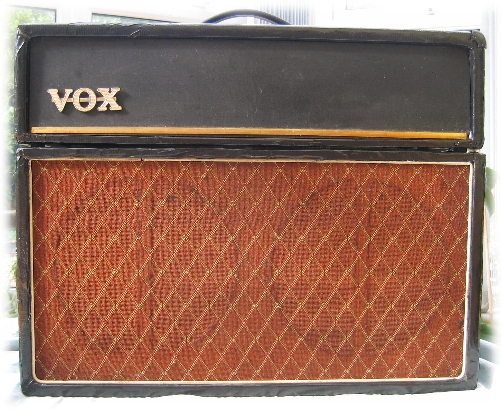 | | |
| --- | --- |
| | For the uninitiated, which would include me until recently, this is the guitar amplifier of choice for many top guitarists. It's a valve amplifier (as opposed to current transistor and microchip technologies) and has such a wonderful warm sound. Until I heard this amp I never really appreciated how important the amp is in the sound of a guitar. |
These amps originate from the 60s and were pivotal in defining the sound of British pop in the Beatles and Stones era. Notable users of VOX AC30s include the Beatles, The Rolling Stones, Edge (from U2), and Brian May (from Queen). But if you found this page you probably know all this ...
So let me tell you about my AC30. These old ones are notoriously difficult to date, but this is certainly an early 60s model, non top boost, probably from around 1962 which would make it as old as me. (Any experts out there who see these photos and can help with the dating please use my Facebook contact (on the left) and message me).
I don't know too much about its history up until the time Dem got it, and used it in My Dog Has No Nose. I now know that this amp contributed to those amazing guitar sounds in their live shows and on their album (not omitting the guitar and Dem's talent!). A previous owner had split the housing in two so it now has separate head and speaker cabinet. It's still the original cabinet, just in two parts.
| | |
| --- | --- |
| MDHNN wound up and the amp was unused for a number of years. When I got it I was busy for a couple of months and only at the end of summer 2008 did I get to plug it in and give it a whirl. Wow. Even with my poor guitar skills it sounds completely wonderful. | |
I noticed some intermittent noises which were not too bad but really needed sorting before I could record etc with it. There was also a hum that I probably could have lived with, and Dem had pointed out that some of the features didn't work properly.
This amp is way better than I deserve to be using, given my standard of playing and the quality of my guitar, but I decided that as custodian of this rather wonderful amp I should look after is best I can. So I looked around the net for someone who might be able to repair the noise and possibly also restore some of the functions. I came across John Chambers who works pretty close to where I live.
| | |
| --- | --- |
| | John was a great find. I'm not doing a sales pitch here, and I'm certainly not on any commission, but I'd heartily recommend John to anyone who needs this kind of work doing on vintage or modern equipment. He's great to chat to, and clearly loves what he does. He has an amazing familiarity with every tiny component of the AC30 and even though I have a very limited understanding he toured me round the components with enthusiasm and reassuring expertise. |
He takes before and after photos as he works, in part so he can show his customers what he has done, but also I suspect because he likes them. Visiting John's workshop is a real pleasure - it is everything you would hope for, stacked high with jobs in progress, benches and shelves teeming with parts and tools, and a rock and roll soundtrack.
Yesterday I picked the amp up from John and connected up. If it sounded fantastic before it sounds amazing now. Various valves and other components have been replaced. The slight hum has gone, there are no noises, and John has made sure of its electrical safety and replaced various missing bolts that should have been in there to keep it solid.
On this page are some photos that I have taken, and some of John's which he has kindly said I can use. I'm also adding in a sound recording of me playing, but if you want a better idea of what it can sound like you need to visit the My Dog Has No Nose site.
Links:
Gallery